Aaron Collins Shares His Top Sci-Fi Film Scores
favorite Sci-Fi scores performed live
Concert Featuring Sci-Fi's Movie Scores Set For Saturday At Scott Center For Performing Arts
BREVARD COUNTY, FLORIDA – We are just one Romulan Ale away from this weekend's blockbuster program.
Don't miss your favorite Sci-Fi scores performed live by your Space Coast Symphony. A live soundtrack will be provided by our talented musicians while you see the films come to life on screen.
The Space Coast Symphony Orchestra will "beam up" science fiction fans for Out of this World: Part Deux, a concert featuring movie scores and on-screen film clips of the genre's biggest blockbusters at 7 p.m. on Saturday, January 3 at the Scott Center for the Performing Arts  in Suntree.
In the meantime, enjoy my favorite Sci-Fi film scores of all time:
Boy, this is quite the task!   I grew up with film scores ringing in my ear and playing through my mind.   I remember sitting in the back of my grandparents' motor home during a road trip, with my hip yellow boom box and thirty five cassette tapes of my favorite film scores.
Science fiction has always been a regular feature throughout the history of film. As early as the silent film era we've had memorable takes on the genre such as Sir Arthur Conan Doyle's The Lost World (1920) and Fritz Lang's Metropolis (1927). In the 1930s H.G. Wells brought us Things to Come (1936) and we also saw the birth of the Flash Gordon and Buck Rogers characters in several low budget film serials.
Sadly, due to the events of World War II, science fiction wouldn't become popular again until the 1950s when the world was looking for escapism and they found it in the guise of aliens. The Day the Earth Stood Still (1951), The Thing From Another World and Invasion of the Body Snatchers all excited viewers with alien invasions. Meanwhile, When Worlds Collide (1951), The War of the Worlds (1953) and The Time Machine (1960) showed us that there was a taste for turning science fiction novels to the big screen.
The space race of the 1960s saw the focus shift to space travel with 2001: A Space Odyssey (1968) and Planet of the Apes (1968) both hugely successfully. But it wouldn't be until 1977 when George Lucas' Star Wars arrived that the history of science fiction wouldn't be changed forever. The genre became a guaranteed money maker and all the major studios looked to cash in. We saw the Star Trek TV series become a film franchise in 1979 and other franchises started to grow throughout the 1980s and 90s such as Alien, Back to the Future, Terminator and Robocop.
Since the turn of the century, this trend has continued, most noticeably with The Matrix Trilogy. The recent focus has been on prequels and sequels (Star Wars, Planet of the Apes, Terminator), remakes (The War of the Worlds, Total Recall) and reboots (Star Trek, Robocop) but science fiction is still as popular as ever.
The genre has also often inspired composers to be at their most creative. Whether it is looking into the future, the past or into space, science fiction has produced some of the very best film scores. It's also hard to pin down one particular style for the genre; composers have used various successful techniques over the years to help us to escape into an unknown world such as symphonic orchestras, synthesizers and unusual sound effects.
And here we go…
I still enjoy discovering new film scores as much as I do of music for the concert hall.  This list changes day to day.  However, I think you will find a great representation of scores, both old and new.
Let the film music games begin!  In no particular order…
TRON LEGACY (2010) – Daft Punk
There are some pieces of casting so perfect that if you were to believe in destiny, you would say that somebody's life had been inexorably leading up to that moment and that moment alone.  Midway through the Tron sequel, in a sequence inside the virtual End Of The Line nightclub, we find Thomas Bangalter and Guy-Manuel De Homem-Christo as two living MP3 sound files reimagined as robot DJs. This, of course, is the natural conclusion of everything that Daft Punk have ever been. And commissioning Daft Punk to write the score to Tron is the best thing going for this lackluster update.
I think this score is very different from everything on my list below and gives you the chance to discover Daft Punk.  Enjoy…
SERENITY (2005) – David Newman
Firefly?  Anyone?  I doubt we will find too many Firefly lovers here.  Serenity is based off the short lived series, Firefly by writer Joss Whedon.   Serenity is a perfect cap to an excellent and under-appreciated series. It is intelligent, adventurous, wonderful characters, a great mix of cowboy, space adventure, a little romance, lots of action…
Here and there, you will catch some folk-music-like tones and melodies that help capture the "Wild Wild West" element of Whedon's future, with a hint of Asian influence which is essential once you understand the background of the universe he has created. Of course, mixed with that you will find a healthy dose of more powerful orchestral music which comes with a typical space opera.
David Newman's Serenity is a fun listen from cover to cover.
THE DAY THE EARTH STOOD STILL (1951) – Bernard Herrmann
I didn't become a fan of Bernard Herrmann until just recently.   Many film composers working today cite Herrmann as their inspiration into getting into film composition. The mysterious, haunting score of The Day the Earth Stood Still by Bernard Herrmann is a masterpiece.   By mixing uplifting, inspirational sequences of notes with ominous bass lines he helped reinforce the movie's message about the dangerous path into the future.  Today, it may seem a bit cliche'd, but Herrman fearlessly embraced the theremin's musical potential, producing the weird, liquid, electronic glissandos that have become science fiction cinema's signature music, ever since.
STAR TREK II:  THE WRATH OF KHAN (1982) – James Horner
Jerry Goldsmith made music for Star Trek a must listen with Star Trek: The Motion Picture.   James Horner had a big task filling those shoes.  Horner busts right out of those shoes with one of my all time favorite scores.   Whereas Star Trek: The Motion Picture had wowed audiences with all the majestic fantasy elements that a $45 million budget could buy, many of which overextended into lengthy sequences to accentuate their mere brilliance of color and sound, Meyer's approach to Star Trek II: The Wrath of Khan was strictly a plot-driven one (and a necessary move because his budget was limited to roughly $11 million for the sequel). With the elements of brutal power, surprise attacks, character development, emotional turmoil, and, most of all, primal revenge all driving the basis of the sequel, there was finally appealing substance to go with the franchise's impressive special effects.
This is in my opinion, the greatest score to come out of the Star Trek series.
STAR TREK:  THE MOTION PICTURE (1979) – Jerry Goldsmith
A score written for the future that's now become one for the ages, Jerry Goldsmith's "Star Trek: The Motion Picture" is a masterpiece and a vital piece in the history of music scores.   Goldsmith states his difficulty with making film scores because of his initial lack of a theme.  But when he finally comes upon a theme, it's something to behold.  This score utilizes a large orchestra with a battery of instruments never used or heard before.   We are going to listen to one of my favorite cues from the score, The Enterprise.   This is the part of the film where the ship is seen for the very first time.  The buildup is well worth it!
ALIEN 3 (1992) – Elliot Goldenthal
People who know me, know I am a huge fan of Elliot Goldenthal.  Watching Alien 3 in the theater, I learned how an average film can be completely overshadowed by a fantastic musical score. This is haunting, powerful, brilliantly scored music.  The score depicts the decent into horror and madness reflected by the narrative, while revealing sub themes of fragile human tenderness within the psyche of the suffering protagonist.  The intense energy of the thrilling musical narrative carries the listener on a runaway journey into the dehumanized world of failing humanity and monsters from the id, a voyage that mirrors some of the darker themes in avant-garde modern music.  Give this soundtrack a chance and a few listens.  You won't be disappointed.  
This Saturday
and
Sunday
, the SCSO will perform the Adagio from Alien 3.
(Yes, I used a thesaurus).
E.T. The Extra-Terrestrial (1982) – John Williams
E.T. is full of wonderful themes and melodies and of those, the famous 'flying theme' is a real highlight. It generates such emotion in the listener as the strings soar making you really relate with E.T's desperation to return to his home planet. Director Steven Speilberg sums up the score perfectly in the original album liner notes: "It is soothing and benign. It is scary and suspenseful and, toward the climax, downright operatic."  The 15-minute sweep of "Escape/Chase/Saying Goodbye" remains one of Williams's most powerful and memorable film-music achievements.   E.T. is a true classic.
ROBOCOP (1987) – Basil Poledouris 
Anyone ever take a metal pan, put it on your head, and walk around like a bad a$# robot to the theme of Robocop?   Well, I did.   The cyber police officer Robocop, part-man, part-machine, is given a full dose of brass laden heroism by Basil Poledouris. The aggressive action music, a combination of orchestra and synths, is both bold and patriotic and is great fun to listen to.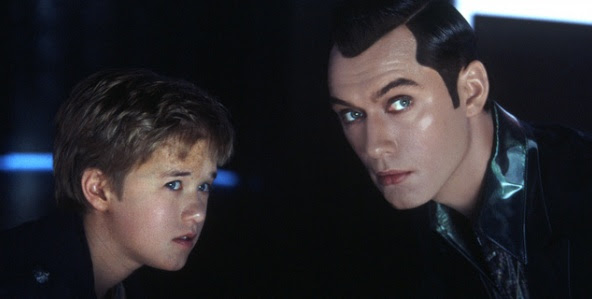 A.I. Artificial Intelligence (2001) – John Williams
Like the film itself, 
John Williams
' music to A.I. strikes a balances between extremes. Sometimes very cold and distant and sometimes warm and personal. The complementary parts of this movie are contantly posing the question "Is there a tangible difference between the natural love of an organic lifeform and the programmed emotions of an artificial lifeform." Of course the movie isn't going to answer the question, that is up to the individual viewer.  Williams again rises to the occasion, ably demonstrating that he's hardly been indifferent to 20-odd-years of minimalism and postmodernism and that, as always, the best film music is often a subtly crafted pastiche of sensibilities and styles.   This is a very different Williams score.   I think you'll love it…
Stargate (1994) – David Arnold
One of the best parts of the sci-fi adventure film Stargate was David Arnold's superb musical score. Arnold's music is true to the film's concept, which blends science fiction gadgetry with motifs inspired by ancient Egypt; the music thus combines the flavor of classic space opera scores (like "Star Wars") with great biblical epic scores (like "Ben-Hur" or "The Ten Commandments").   Highly recommended for fans of epic film scores.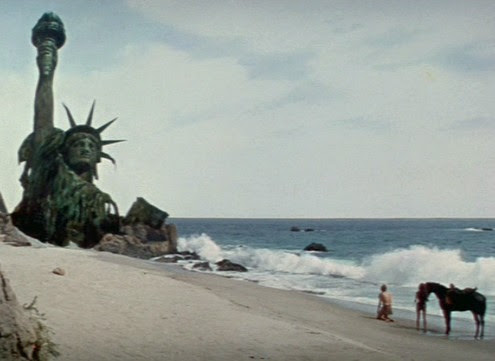 PLANET OF THE APES (1968) – Jerry Goldsmith
The score for the original Planet of the Apes is quite unique. Unlike other scores in this list, it doesn't obtain its merits from melodies. Quite the contrary, it is impressive due to its lack of them! Jerry Goldsmith creates simple musical progressions and motifs using minimalist orchestral effects together with unusual instruments such as pots, pans and even a ram's horn! This creates a brilliant sense of the unknown as the protagonists search the strange new world they've discovered. As the film develops, Goldsmith unleashes some truly violent action pieces featuring plenty of exciting percussion.  It's a stand out moment in the composer's long career and in film music in general.
STAR WARS (all films) – John Williams
Ok, ok, ok.  I am cheating a bit.  One could argue that all six Star Wars scores could find their way into a list of favorite Sci-Fi Soundtracks.  This series and its music is my favorite.   Nothing comes close to the incredible music, atmosphere, and set pieces John Williams created for the Star Wars universe. Simply put, The Empire Strikes Back is a masterpiece and is the epitome of grand orchestral writing. Highlights include the famous Imperial March, the emotive Han Solo and the Princess, the awe inspiring Yoda's Theme and the action packed The Asteroid Field.  Today, we are going to listen to what I believe is the best action set piece ever written for film, The Battle of Hoth.  This is fifteen minutes of movie music perfection.  It fits the film like a glove and delivers some of the most thrilling moments in Williams' oeuvre.
The Matrix (1999) – Don Davis
16 years old, five mountain dews, and a group of high energy friends.  That is my movie experience of The Matrix in 99.'  Suffice to say, it was one of the most memorable movies I can remember in a theater.  Musically avant-garde elements have been utilized in film scores for decades, usually as shock elements to denote horror or the otherworldly.  Given that background, Don Davis's powerful, innovative score to the Wachowski brothers' sci-fi hit The Matrix has all the makings of a landmark. Utilizing his extensive interest and training in the avant-garde, Davis has composed what's been touted as the first "New York school postmodern" film score.  While I wouldn't go that far, the Matrix weds Davis's mastery of musical detail and coloration to a largely atonal postmodern concerto that's complex, dark, and unrelenting.  The score matches the innovation of the film and that is a rarity!
The Fifth Element (1999) – Eric Serra
There's some very wild, very distinctive music with the Fifth Element soundtrack, and it's a far cry from the Williams/Goldsmith-style of epic orchestral soundtracks that you might otherwise expect for a science fiction film like this.
This is just a wild and very experimental soundtrack.  Eric Serra's Diva Dance was my ring tone for a little over two years.   Take a listen below.
As I was doing this, I realized it is impossible.  Here are a few others you may not know of and want to seek out.  Click any of the scores below to listen.
This was a lot of fun and hope to do it more.   Tell me what you think or tell me your favorites, by emailing me at aaron@spacecoastsymphony.org.